The @Baker
Scrapbook




(Still Under Construction)
---

Back to the Baker Home Page
---
Classes
Class of '56
Class of '64
Class of '65
Class of '66
Class of '69 Page maintained by Dell Emerson, BHS'69
Class of '72
Class of '73 '98 Reunion News

---
Events
1941
Muscogee County receives a half-million dollar appropriation from the Federal government to build a school in south Columbus, primarily to serve military families.
1943
Newton D. Baker School established. Construction was completed in August and classes start on September 13 for grades 1-12. The school was named for Newton Diehl Baker (1871-1937), who was appointed Secretary of War on March 7, 1916 by President Woodrow Wilson. He served until 1921 and directed the U.S. war effort during World War I. The school was called "Baker Village School" by local residents. Britt Ware '53 has written a recollection of those early years.
1945
The first high school class graduates from Baker in June.
First edition of the Arrowhead. Baker's yearbook is named to reflect the heritage of the Muscogee Indians, who once lived where Baker stands.
1946
The Class of '46 Erects a Freestanding "Cornerstone" which commemorates the founding of Baker High and quotes Horace Mann: Be ashamed to die until you have won some victory for humanity. September.
1950
Baker Switches to Twelve-Year Format. Previously only eleven years were required to graduate. Read about the change as told by Bill Dawson '52.
1954
Baker's first state championship, in basketball; other state titles were for basketball in 1956 and for track in 1964, 1965, 1966, 1968 and 1969.
1956
The Band Room addition is built on the west side of the school, next to what was then the gym.
1958
Last Kindergarten through Sixth Grade classes start school at Baker in September.
First enriched classes at Baker. The students referred to these as "accelerated" classes. There were also remedial classes. This three-tier grouping of students at Baker was a first in Muscogee County.
1959
Last Seventh Grade class starts school at Baker in September.
Alcie Mae Dennis Chapter of National Honor Society Chartered February 10.
First edition of the Lions' Tale student handbook is published by the Student Council. By the sixth edition (1964) the Lions' Tale had grown to a 76-page booklet.
1960
The first Honor Student Banquet was held under the auspices of the Student Council. Each teacher selected one honor student, and the honor students, by secret ballot, selected the honor teacher. The keynote speaker was William Henry Shaw.
Alabama Polytechnic Institute officially became Auburn University, although it had been called that for years. Many Baker faculty members received advanced degrees from Auburn.
1961
Newt Gingrich (we called hi "Newton") graduates from Baker. Newt went on to be Speaker of the House of Representatives from 1995 to 1999.
Baker gets a Western Electric 555 cord switchboard.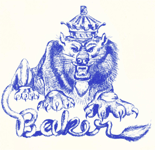 The drawing of the Baker Lion that appears on the right was the endplate for the 1964 Arrowhead. Thanks to Mike Omelanuk. '64, for sending this in. A high-resolution version is available here. Beware; it's 632K.
Mike also sent in scans of the front cover and inside of the 1964 graduation invitation.
This year for the first time, several girls who did not play an instrument in the band were selected as majorettes. Previously, one had to play an instrument to be a majorette.
The Dandy Lions drill team is formed.
1965
Baker 39, Columbus 7.
Official Dedication Ceremony for Baker High School. The dedication was somehow overlooked until Principal Oscar P. Boyles held the ceremony in 1965.
Baker High is Integrated. The first African-American students (it was polite to say "Negroes" then) were Robert Leonard and Larry Smith. Robert is remembered for the "Cassius Clay" skit, and for getting for getting one of the loudest rounds of applause at graduation. Larry was on the State Championship-winning track team.
1969
Donald Ray Johnston '66 is awarded posthumously the Congressional Medal of Honor "For conspicuous gallantry and intrepidity in action at the risk of his life above and beyond the call of duty."
1970
First edition of the Lion's Pride, the new title for Baker's yearbook. Read about the change as told by Glenn Wells, '60 and faculty.
1971
Baker Auditorium Burns March 31 by Walt Egenmaier
1990
Class of 1990 graduates, June 6.
1991
The ast High School class graduates from Baker. June 6. The buildings remain in use and are the home of Baker Middle School.
1995
The @Baker World Wide Web Server is started for the first time at 7:20 PM on November 26. The first outside access was December 7.
1999
Baker Middle School moves out of the Baker High buildings, leaving the buildings vacant. Baker Middle School moved into a new building farther east on Benning Drive. The Baker High buildings fall into disrepair.
The @Baker server had a disk crash early on the morning of April 27. The server was down for over a month, and came back on line about 4:30 PM on May 31.
2000
Baker's first all-class reunion, B.U.M.S. 2000 was held in Columbus the last week in July. It was huge success.
2001
Lynn Wyatt '72 took over most of the duties as Webmaster @Baker. He completed an enormous backlog of registrations in record time and breathed new life into the @Baker project.
A new @Baker server came online at 8:15 PM on Thanksgiving day. The original server ran for six years and served over a million Web pages. The new server has enough memory, disk space, and CPU power to let us move into the next decade of Web services.
2004
The Lions Forever all-class reunion is a resounding success.
Bill Dawson, '52, wrote a fond reflection, Remembering Baker, for the Lions-L mailing list.
The @Baker Server is kicked out of the data center where one of us used to work, and we're running on a commercial Web hosting server now. The move was not without lumps and bumps, but we also got newer software and better services out of the change.
Sylvia Head takes over as the Baker Webmaster.
The Classes of 1965 and 1970 return to Columbus for reunions.
---
Links to Other Web Pages
Georgia and Columbus Links
WRBL TV-3 is the source of many memories for Lions.
We'll publicize The Columbus Ledger-Enquirer's home page even if they won't let us reprint Baker stuff!
http://www.metrocolumbus.info has a lot of information about Columbus and the Valley.
Gone and almost forgotten A loving look at Columbus of days gone by.
A Bum Looks at Columbus Pictures by Karl. A fast connection helps.
Search Yahoo! for other Georgia web sites.
Military Connections
National Park Service, Southeast Archaeological Center, Fort Benning Public Awareness & Education Plan for Cultural Resources
Fort Benning - Home of the Infantry.
DoD Dependent Schools Alumni Page
Alumni-Type Sites
Help people find you by registering here: http://www.maidenname.net/
Nostalgia
For children of the 50's.
Remember the music you listened to in high school? Well, here it is!
Other Links
Reunion Hall is an alumni registry covering the whole world.
Four-11, a white-pages listing of Internet users.

---
Baker Electronic Discussion List Archives
Lions-L Discussion List, August, 1997 (64K)
Lions-L Discussion List, July, 1997 (130K)
Lions-L Discussion List, June, 1997 (94K)
Lions-L Discussion List, May, 1997 (172K)
Lions-L Discussion List, March, 1997 (331K)
Lions-L Discussion List, February, 1997 (199K)
Lions-L Discussion List, January, 1997 (122K)
Lions-L Discussion List, December, 1996 (34K)
Lions-L Discussion List, November, 1996 (124K)
Lions-L Discussion List, October, 1996 (65K)
Lions-L Discussion List, September, 1996 (41K)
Lions-L Discussion List, August, 1996 (105K)
Lions-L Discussion List, July, 1996 (43K)
Lions-L Discussion List, June, 1996 (61K)
Lions-L Discussion List, May, 1996 (50K)
Lions-L Discussion List, April, 1996 (71K)
Lions-L Discussion List, March, 1996 (76K)
Lions-L Discussion List, February, 1996 (42K)
Lions-L Discussion List, January, 1996 (84K)
Lions-L Discussion List, December, 1995 (6K)
---
Interesting Stuff
Who's Accessing the Baker Server? Check with AccessWatch by David Maher, updated on the hour.

How's @Baker's connection to the Internet? Find out with 'Net Check which looks outward fro @Baker to several other networks.
"Baker High" Schools in Other Cities
As far as we know, schools without links don't have Web pages yet.

Baker High School, Macclenny, Florida

Baker High School, Baker, Louisiana

Baker High School, Baker, Montana

Baker High School, Baldwinsville, New York

Baker City High School, Baker City, Oregon

---
Other "Baker" Schools
Baker Elementary School, Acworth, Georgia

Baker Middle School, Columbus, Georgia The former Baker High!
A. J. Baker Public School, Kintore, Ontario

Custer Baker Middle School, Franklin, Indiana

George C. Baker Elementary School, Moorestown, New Jersey

---
Newspaper Clippings
Class of '65 Reunion '95 Milledgeville Union-Recorder, August 11, 1995

This is an article that was published in the Ledger Enquirer June 23, 2002 that dealt with desegregation in Columbus and referenced Baker. Glenn Wells brought it to our attention and the paper allowed us to link to the page until February 1, 2003 (or until they delete it).

We must have the permission of the publisher or author to reproduce articles here; if you send an article, please include a release letter on the newspaper's letterhead.
---

Back to the Baker High Home Page
1996 Feb 17 BB